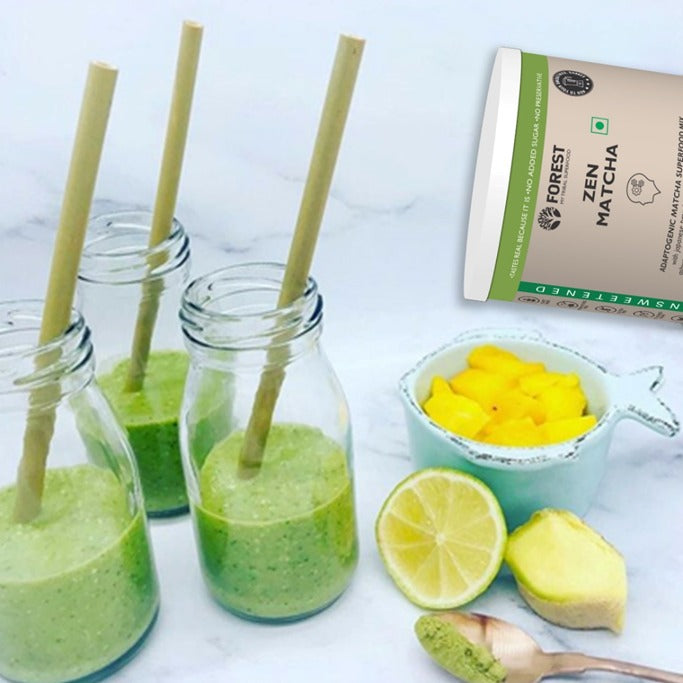 TROPICAL ZEN MATCHA SMOOTHIE
We love smoothie bowls. They are easy to make, you can add a ton of delicious toppings and simply spoon it out! Aren't they just so much more fun than regular smoothies?
This green bowl is currently one of our favorites - so light, fresh, and fruity! Plus, it's packed with energy-boosting and nutrient-dense superfoods to start the day off right.
The Zen Matcha mix adds some extra nutrition and flavor, plus Matcha is always a good idea, right? This natural source of caffeine is an effective but gentle energy booster and we love the extra greens!
TROPICAL ZEN MATCHA SMOOTHIE
Makes 1 Serving
Recipe type - Drinks
INGREDIENTS
- 2 cups spinach
- 1 cup mango
- 1 cup cashew nut milk (or your preferred milk).
- 1 cup water
- 1 tsp zen matcha powder
- 2-inch fresh ginger
DIRECTIONS:
If you have a sweet tooth, you can add a couple of pitted dates for extra sweetness.

If you like extra 'zing' add 1 Tbsp fresh lime juice.

Pop everything into a blender. Whizz up. Pour and enjoy!