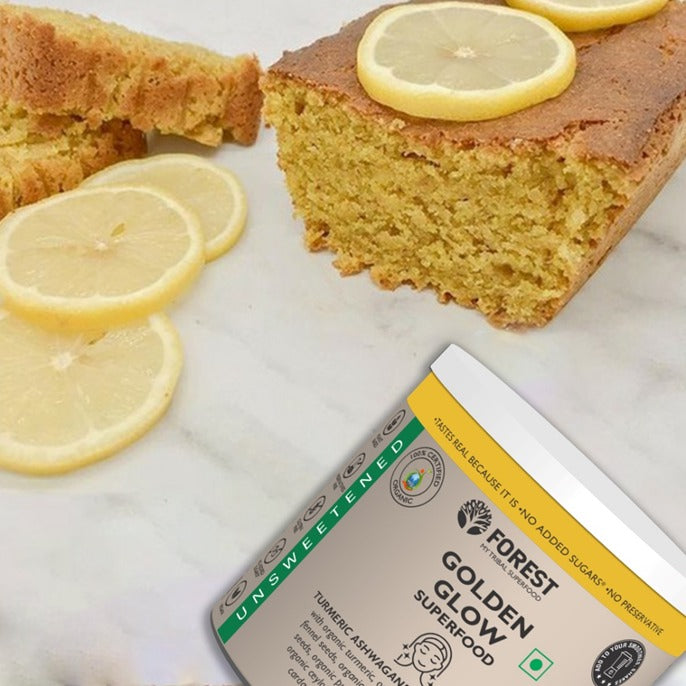 This dairy-free, vegan cake is made with fresh lemons and coconut collab yogurt. It is so moist and full of delicious lemon flavor, packed with potent health benefits from turmeric, PLUS it is sooooooo easy to make.
LEMON & TURMERIC CAKE
Makes 1 Serving
Recipe type - Dessert
INGREDIENTS
- 2 ¼ cups spelled flour
- ½ cup coconut sugar
- 2 tsp baking powder
- 1 tsp baking soda
- ¼ tsp sea salt
- 2 tsp Organic Golden Glow
- ½ cup freshly squeezed lemon juice (around 3-4 lemons)
- ¾ coconut collaborative yogurt, at temperature
- ½ cup coconut oil.
DIRECTIONS:
Preheat the oven to 180

Line a loaf tin and set it aside.

In a mixing bowl sieve in the flour and then mix in the sugar, baking powder, baking soda, and salt. In a separate bowl combine the lemon juice, lemon zest, coconut oil, yogurt, and

Organic Golden Glow powder.

Add the wet ingredients to the dry and mix until smooth.

Pour the mixture into the loaf tin.

Bake for 55 mins.

Let the cake cool for about 10 minutes, then turn out onto a plate.