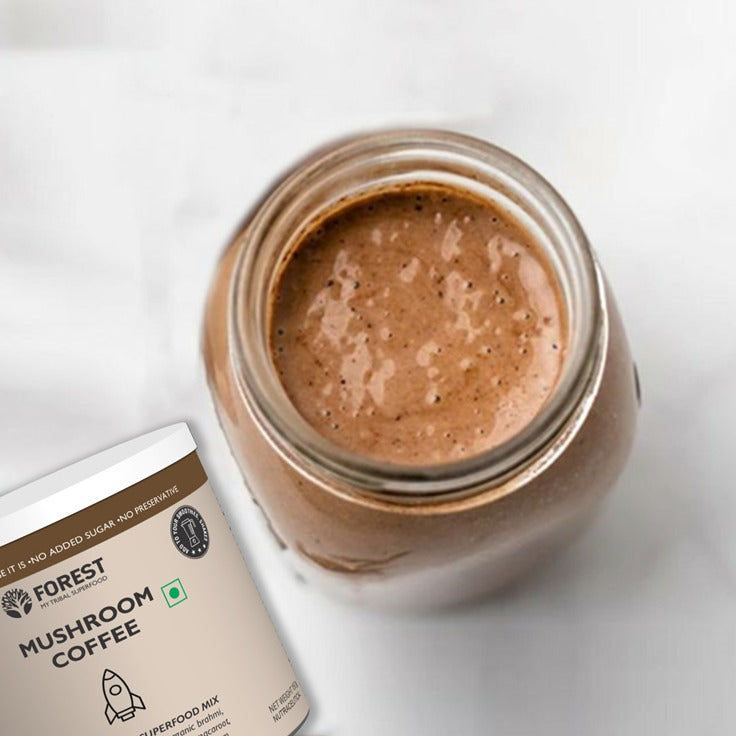 DOUBLE CHOCOLATE SHAKE RECIPE
The chocolate, or in this case cacao. This diner-approved shake contains two of our favorite chocolate superfood mixes featuring this mood-boosting superfood!
The first serving of chocolate comes from our Chocolate love mix. It'll not only put you in a good mood, but you'll also get a boost of antioxidants and essential nutrients. Adding to the chocolatey goodness is our Mushroom coffee mix, which combines function mushrooms for immune support and ashwagandha for less stress.
DOUBLE CHOCOLATE SHAKE RECIPE
Makes 1 Serving
Recipe type - Drinks
INGREDIENTS
- 2 tsp Chocolate love mix
- 1 tsp Mushroom coffee mix
- 2 pitted dates
- ¼ avocado
- 1 cup plant-based milk
- 1 tbsp almond butter
- ice cubes
DIRECTIONS:
Place all of the ingredients in a high-speed blender and blend until smooth and creamy.

Pour into a glass or jar and enjoy!