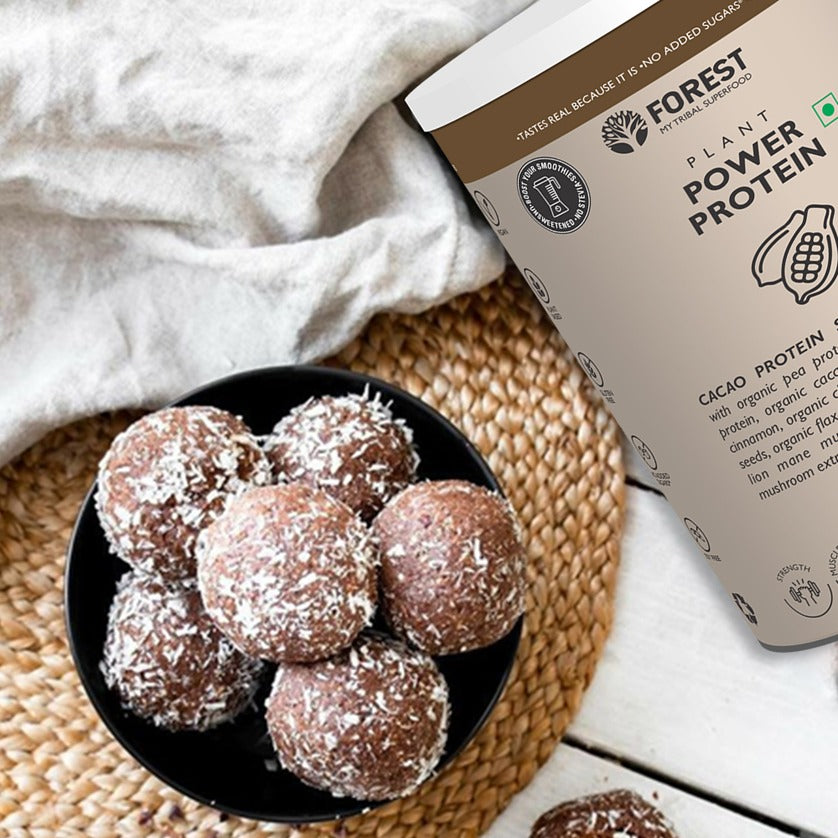 PLANT POWER PROTEIN ENERGY BALLS RECIPE
A day well spent for us means making some homemade Energy Balls for the week ahead... and indulging in a few of course 😂😍 they're the perfect snack to keep you going during the day and after your workout 💪🏼 Give this recipe a go, you won't regret it.
PLANT POWER PROTEIN ENERGY BALLS RECIPE
Makes 1 Serving
Recipe type - Snacks
INGREDIENTS / Yields 4 big bars
- 11/2 cup of medjool dates
- 1/2 cup of coconut flour
- 1/2 serving of our plant power Protein
- 1/2 cup of your choice of nuts (cashews, walnuts, almonds or hazelnuts)
- 1/2 cup of cacao powder
- 3 heaped tbsp of almond butter
- 1/2 cup of shredded coconut (to cover)
METHOD :
Add the coconut flour,

Plant Power Protein

, cacao and nuts into your blender. Process until well mixed and nuts are crushed/powdery.

Add the dates and slowly add the almond butter into the blender.

When ingredients are mixed well, you should get a sticky dough mixture consistency.

Roll into large equal balls and dip in some shredded coconut.

Store in the fridge and get snacking!