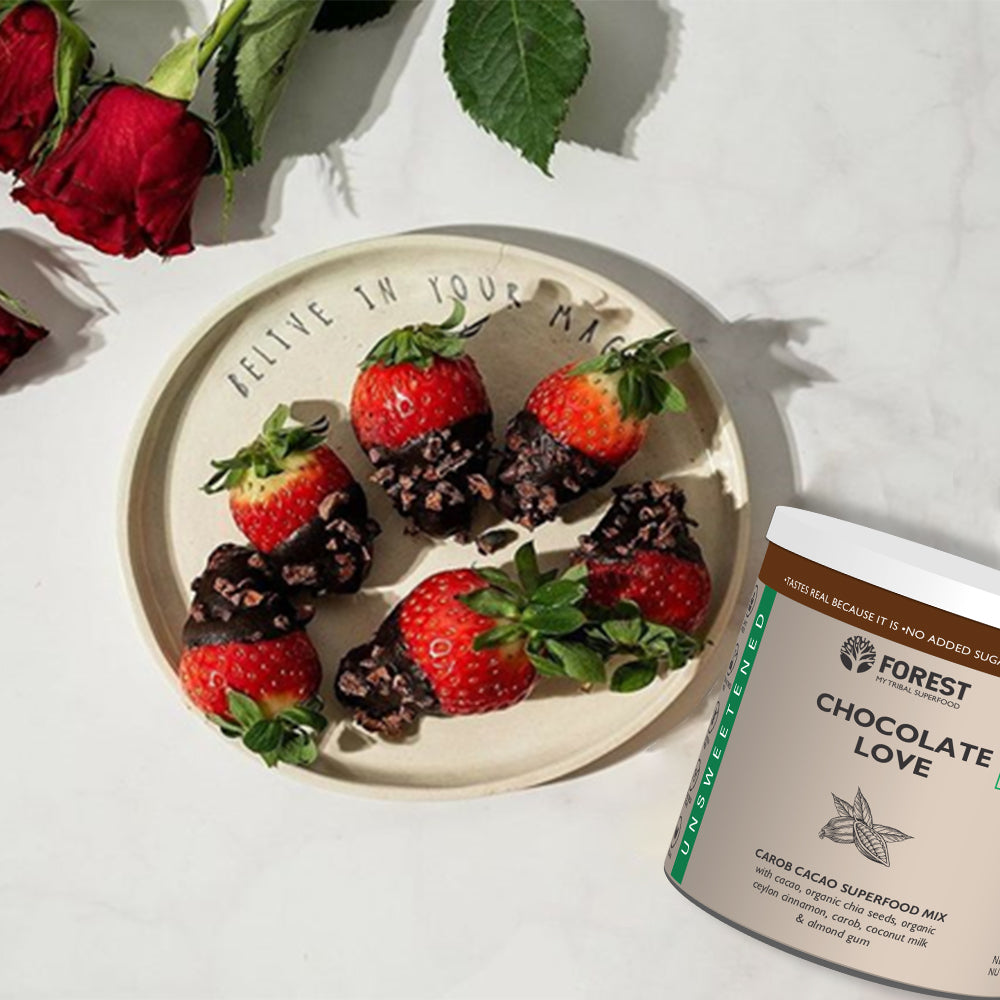 CHOCOLATE-COVERED STRAWBERRIES RECIPE
Assorted chocolates 🍫 or chocolate-covered strawberries? 🍓
CHOCOLATE-COVERED STRAWBERRIES RECIPE
Makes 1 Serving
Recipe type - Breakfast, snacks
INGREDIENTS
- 1/4 cup cocoa powder or raw cacao powder, sifted
- 1 serving Chocolate love
- 1/4 cup pure raw honey (or agave)
- 1/4 cup coconut oil (no subs)
- 1 tbsp all-natural nut butter (I used cashew butter)
- 1/4 scant tsp fine grain sea salt, or to taste Unsweetened shredded coconut, to garnish Optional pink glaze:
- 1/2 cup icing (confectioner's) sugar,
- 1 large strawberry,
- 1/2-1 tbsp strawberry jam, processed in a mini blender (makes enough to glaze about 8-10)
DIRECTIONS:
Wash and pat the strawberries dry. Set aside. In a small pot,

whisk together the raw honey, coconut oil, nut butter, and cocoa powder over low to medium heat.

Whisk for a couple minutes until all the coconut of is melted and remove from heat.

Dip strawberries into the chocolate mixture, coating most of the strawberry.

Place onto a plate lined with parchment paper or on a wire rack.

Repeat for the rest and sprinkle with coconut.

Chill in the fridge to set.
DIRECTIONS:
If making the pink frosting: with a mini food processor, combine the icing sugar, strawberry, and jam until smooth.

You may need to add a bit more icing sugar depending on the consistency of your jam.

If you don't have a mini processor, I suggest not using the whole strawberry and just mixing in a bit more jam into the icing sugar until the right consistency is achieved.

Spoon the frosting into a baggie and snip off the end.

Pipe frosting onto the strawberries and place back in the fridge until firm.