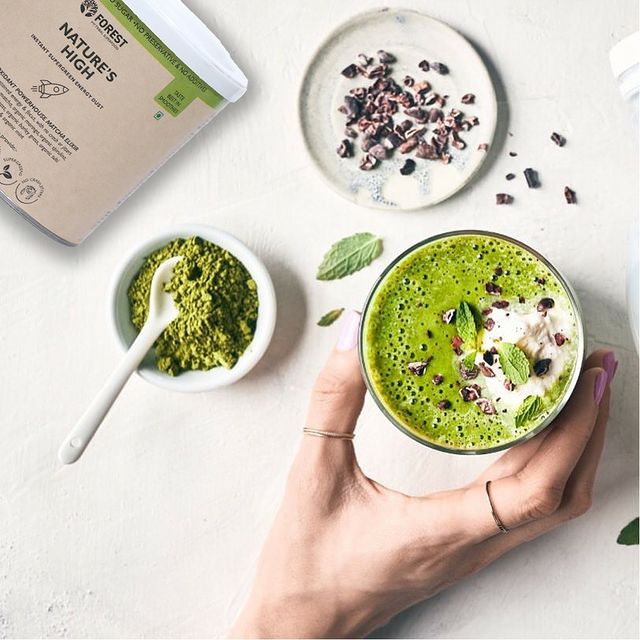 This Mint Nature's high Chip Smoothie is so delicious, you'll forget it's good for you 😋.
Makes 1 Serving
Recipe type - Smoothie
Ingredients:
- 2 frozen bananas, sliced
- 1 ½ cup Vanilla Cashew Milk (or milk of choice)
- ½ cup frozen spinach
- 1/3 cup fresh mint leaves, packed
- 4 ice cubes
- 1-2 tbsp raw honey (or liquid sweetener of choice)
- 1 tsp Nature's High Mix
- 2 tbsp cacao nibs
- Optional garnish: coconut whipped cream, fresh mint, cacao nibs
Directions:
Add frozen bananas.

1 cup cashew milk, frozen spinach, mint leaves, ice cubes.

1 tablespoon raw honey and

nature's high

to a blender and blend. Mixture will be thick, so pause between blending to stir contents and scrape down sides of blender.

Add up to an additional 1/2 cup cashew milk, if needed, keeping the mixture as thick as possible. Stop when mixture is smooth and creamy.

Taste and add additional raw honey to sweeten, if desired.

Add

cacao nibs

to blender and pulse 1-3 times, just until mixed. Avoid over blending, as you want cacao nibs to still be visible. Transfer to two glasses and enjoy. Top with coconut whipped cream, fresh mint, and/or cacao nibs, if desired. Enjoy!