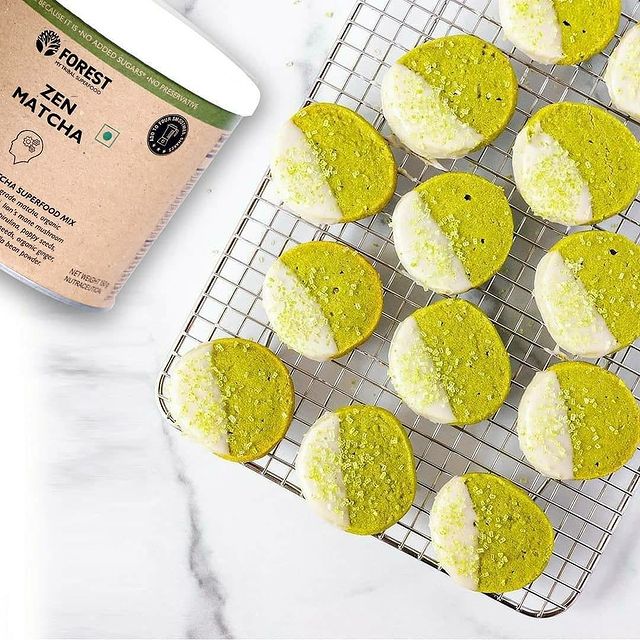 MATCHA SHORTBREAD COOKIES
Enjoy your afternoon tea with these buttery, crispy Matcha Green Tea Cookies. The unique flavor of matcha in the cookies is surprisingly delightful!
These cookies are guilt-free and perfect for matcha lovers who want to power through long hours of work or meetings or get in the zone for reading, writing, or creative work.
MATCHA SHORTBREAD COOKIES
Forest mix used - Zen Match
Recipe type - Snack
Makes 1 serving
Ingredients:
1 tsp Zen Matcha mix.
2 tsp coconut oil.
2/3 cup Coconut sugar.
1/4 tsp vanilla bean powder.
3/4 tsp sea salt .
2 cups flour, spooned and leveled.
FOR THE GLAZE:
1 cup Coconut sugar.
1-2 tablespoons milk.
1/4 tsp vanilla extract.
Directions:
Beat together the Coconut oil, sugar, vanilla, Zen Matcha and salt until very light and creamy (about 4-6 minutes). Add the flour and continue beating until fully incorporated. Slowly add the flour and mix until just combined and the mixture is starting to come together into a dough.

Dump the dough out onto a piece of parchment and divide in half. Form each half into a round log approximately 2 inches in diameter. Wrap each log in parchment and refrigerate until firm -about 1 1/2 hours.