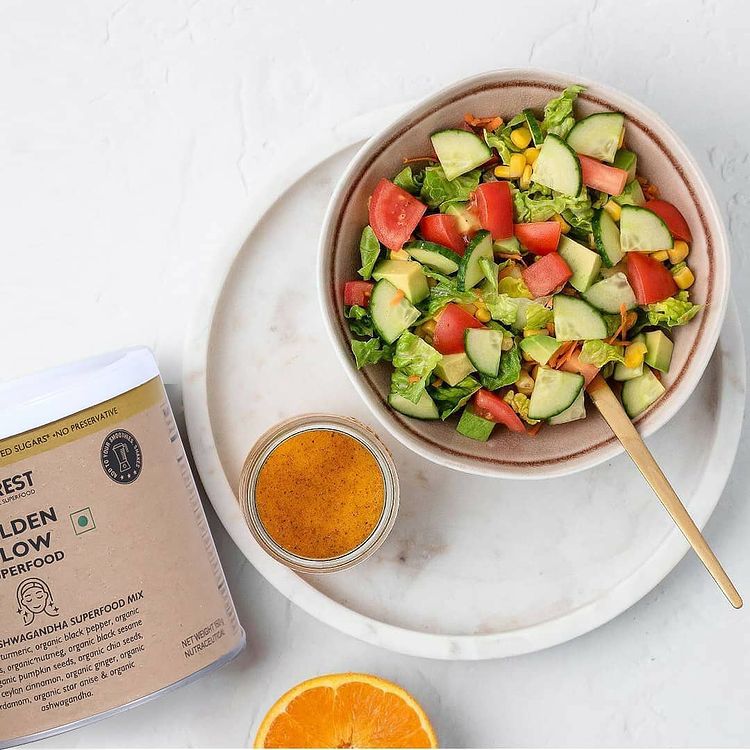 Brighten up your plate with this colorful rainbow salad!
🌈When paired with our energizing citrus vinaigrette
🍊, which is loaded with superfoods turmeric and cinnamon, this delicious combo will give you hours of long-lasting energy.
Just what you need to power you through the rest of your day! 🏃
RAINBOW SALAD
Recipe type - Lunch
Makes 1 serving
Ingredients:
1 carrot, shredded .
1 tomato, diced .
1/2 avocado, dicedt .
2 cups romaine lettuce, chopped .
1/2 cup sweet corn .
1/4 cucumber, diced .
Directions:
Combine all of the ingredients in a large bowl.

Pour dressing over the top and enjoy.
ENERGIZING CITRUS VINAIGRETTE
Ingredients:
1 tsp Golden Glow mix .
1 orange, juiced .
1 tbsp raw honey .
1 tbsp vinegar .
1% tsp olive oil .
salt and pepper, to taste .
Directions:
In a small bowl, whisk together all ingredients until combined.

Taste and adjust seasonings.

Store in an airtight container and use within 2-3 days.