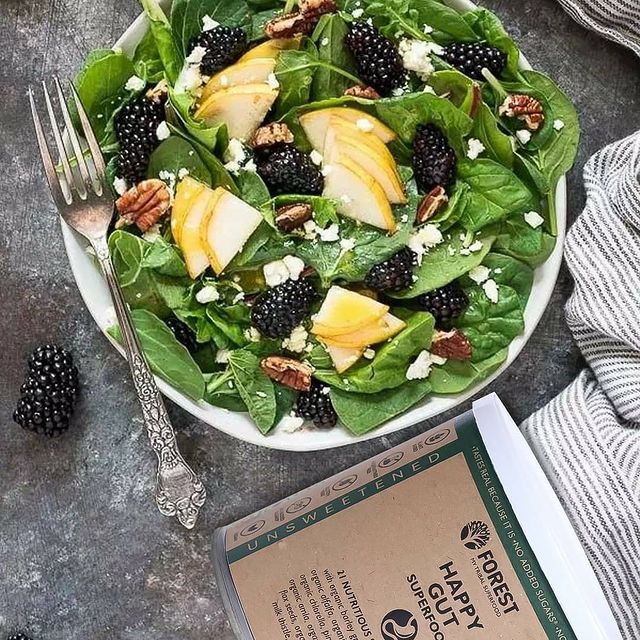 Happy gut Salad with Pear and Blackberries is a nutritious blend of power greens, juicy pears, sweet blackberries, feta cheese, and toasted pecans tossed in an apple cider vinaigrette!
HAPPY GUT SALAD
Recipe type - Lunches and Dinner
Makes 1 serving
Ingredients:
- (For the dressing).
- 2 tablespoons apple cider vinegar.
- 2 teaspoons raw honey.
- 1 teaspoon fresh lemon juice.
- 6 tablespoons extra virgin olive oil.
- Salt and pepper to taste (for the salad).
- 1 serving Happy Gut.
- 1 large Bartlett pear cut into "1" pieces.
- 1 pint blackberries halved if large.
- 1/2 cup crumbled feta cheese.
- 1/2 cup toasted pecan pieces.
HAPPY GUT SALAD
INSTRUCTIONS
Place the vinegar, raw honey, lemon juice, olive oil, salt and freshly ground black pepper to taste in mason jar and screw on the lid tightly. Shake vigorously until emulsified:
ASSEMBLE THE SALAD
Place all salad ingredients in a large bowl. Toss gently with enough of the dressing to coat, and serve immediately.

Enjoy!.