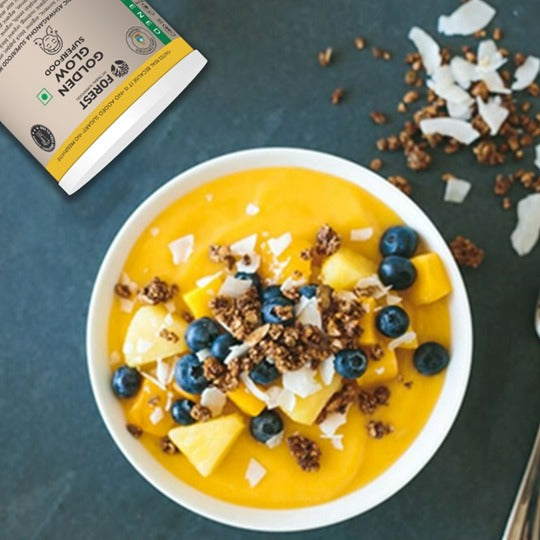 GOLDEN GLOW MANGO SMOOTHIE BOWL
Forest Organic Golden Glow -Immuno gold inner healing superfood blend of ayurvedic herbs and ingredients intended to help fortify your immune system and boost your diet with antioxidants. 100% Plant Based, Anti-inflammatory, Essential Vitamins, Antioxidants, Non-GMO, Organic Turmeric, organic star anise, organic Ashwagandha, Organic Chia Seeds and much more.
Benefits- GOOD AS GOLD
ANTI-INFLAMMATORY & NATURAL IMMUNITY BUILDING
9 Powerful Spices & Healthy Curcumin Infusion Add it to smoothies, lattes or teas
100% VEGAN, NO ADDITIVES: non-GMO, vegan, non-irradiated, ethically sourced, lactose free - without any additives.
GOLDEN GLOW MANGO SMOOTHIE BOWL
Makes 1 Serving
Recipe type - Smoothies
INGREDIENTS
- 11/2 cup frozen mango chunks
- 1/2 cup frozen pineapple chunks
- 1/2 banana frozen
- 1 cup coconut water
- 1 Serving Organic Golden Glow
- 1/4 cup mango chunks
- 1/4 cup pineapple chunks
- 1/4 cup blueberries
- 2 tbsp coconut flakes
- 2 tbsp chai spiced granola
DIRECTIONS:
Add the coconut water, then fruit into a high-powered blender. Blend on high for one minute, until thick and creamy consistency.

Pour into a bowl and add your toppings.