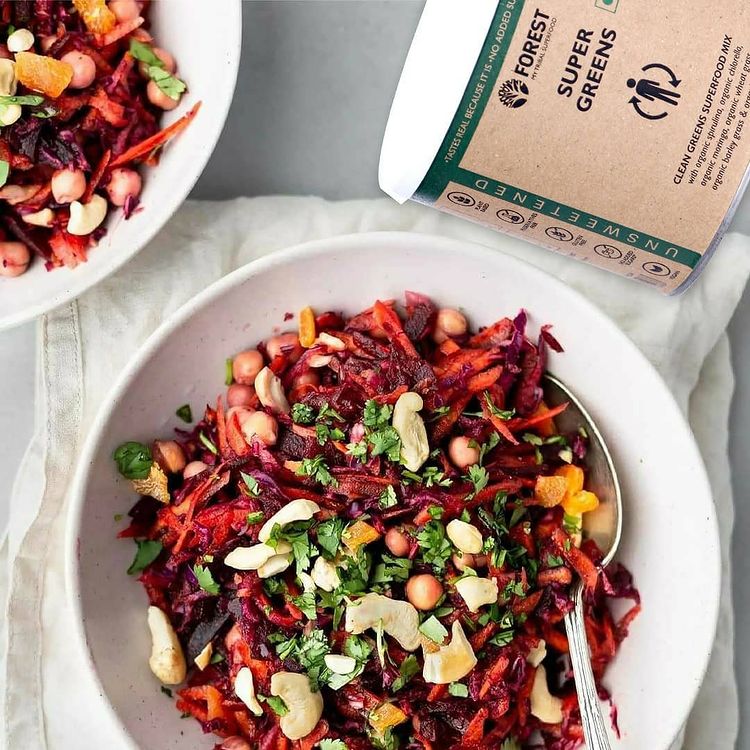 FOREST MIX USED- SUPER GREENS
MEET THE BEET with our amazing Rock -it beet salad:
SPOTLIGHT ON: BEETROOT
Low in calories
Rich in potassium and folate
Supports healthy digestion due to its high glutamine content.
Contains anti-inflammatory properties.
Rich in antioxidants
Topped with Our Super greens mix dressing: Organic moringa, organic wheatgrass, organic barley grass, organic alfalfa, organic spirulina and organic chlorella.
ROCK-IT BEET SALAD
Recipe type - Lunch / Dinner
Makes 1 serving
Ingredients: (FOR SALAD)
- 2 small beetroot, peeled.
- 2 cups chopped spinach leave.
- 1 cup chopped rocket leaves
- 6 walnuts, soaked and crushed
- 1 cup grated coconut
- 1/2 avocodo, chopped (optional)
SUPER GREENS DRESSING
- 1/2 cup choped cucumber.
- 4 dates, seedless.
- 1/4 cup coriander.
- 1 and half tablespoon lemon juice.
- 1/4 teaspoon cumin powder.
- 1 serving Super Greens.
ROCK-IT BEET SALAD
DIRECTIONS:
Chop the beatroots and steam them until soft.

Put the steamed beetroots into a large mixing bowl, along with the spinach, rocket, coconut, walnuts and avocado (optional).

To prepare the Super Greens Dressing place all the dresing ingredients into a blender and blend until smooth.

Pour the dressing over the salad, toss well and serve.