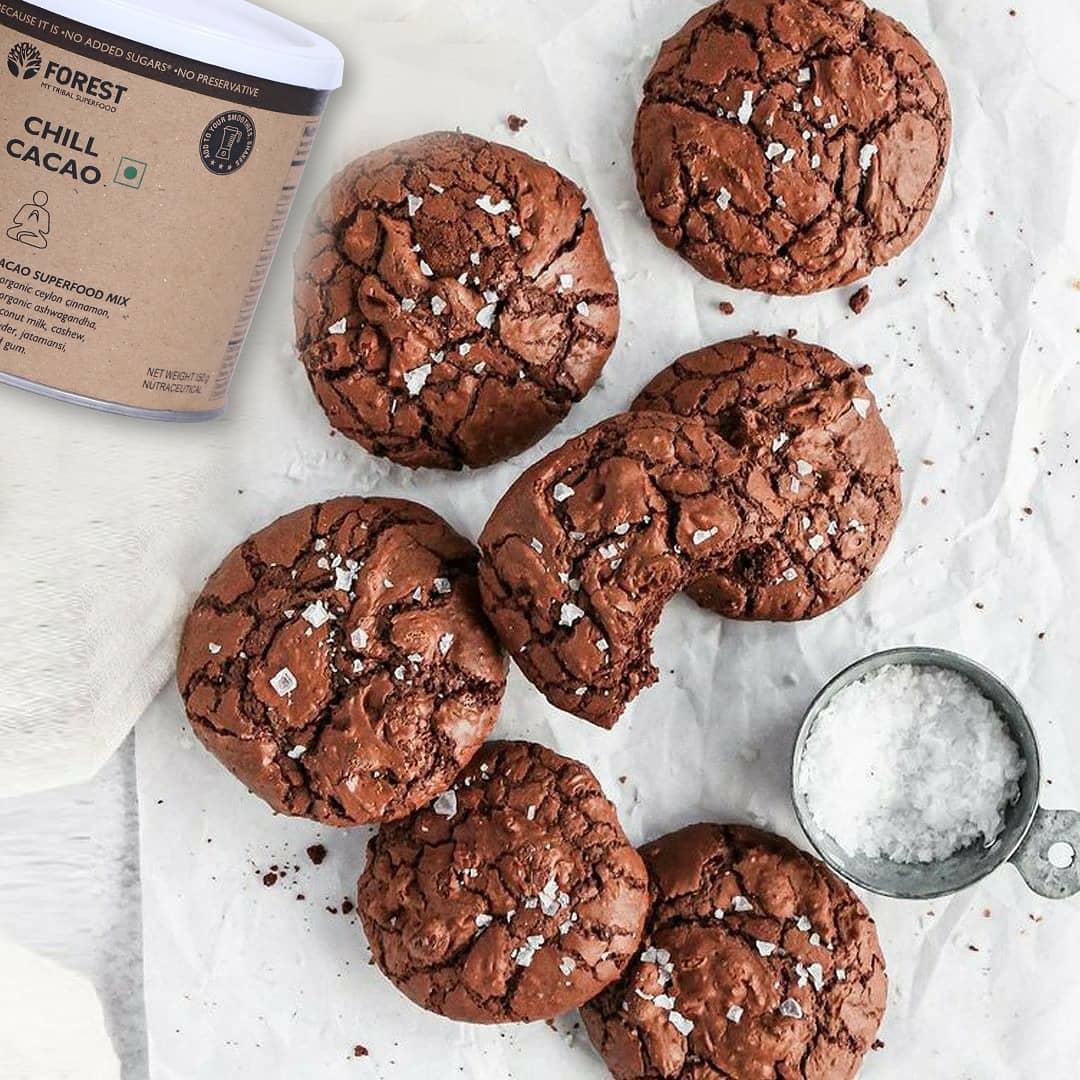 CHILL CACAO BROWNIE COOKIES INGREDIENTS:
✨ Chill cacao 𝐁𝐫𝐨𝐰𝐧𝐢𝐞 𝐂𝐨𝐨𝐤𝐢𝐞𝐬 ✨
Who needs some chocolate fix this week? I do, and I will definitely make again these chocolate brownie cookies
✨ Soft and gooey center and crispy on the outside, these cookies are a must! Our chill cacao mix Organic Cacao, Coconut milk, Organic Ceylon cinnamon, organic star anise, Organic ashwagandha, organic Brahmi, cashew, ground vanilla bean powder, jatamansi, Almond gum.
CHILL CACAO BROWNIE COOKIES INGREDIENTS:
Makes 1 serving
Recipe type - Dessert
Ingredients:
- 200g raw cacao
- 50g coconut all
- 2 forest tbsp Chill Cacao
- 100-gram coconut sugar
- 50g nut butter
- 2 tbsp water
- 75 gram all oats flour
- 1/2 tbsp baking powder
- 1/4 pink salt
Directions:
Preheat the oven to 170 degrees and line the baking sheet with parchment paper.

In a bowl beat the Chill Cacao, coconut oil coconut sugar and nut butter.

Fold in the chocolate mixture.

Then add the flour, cacao and baking powder.

The batter will be softer than any other cookie dough. Using cookies scoop, scoop the batter onto baking sheet.

Bake for 12 minutes until they are crackly on top: Allow to cool completely and enjoy!