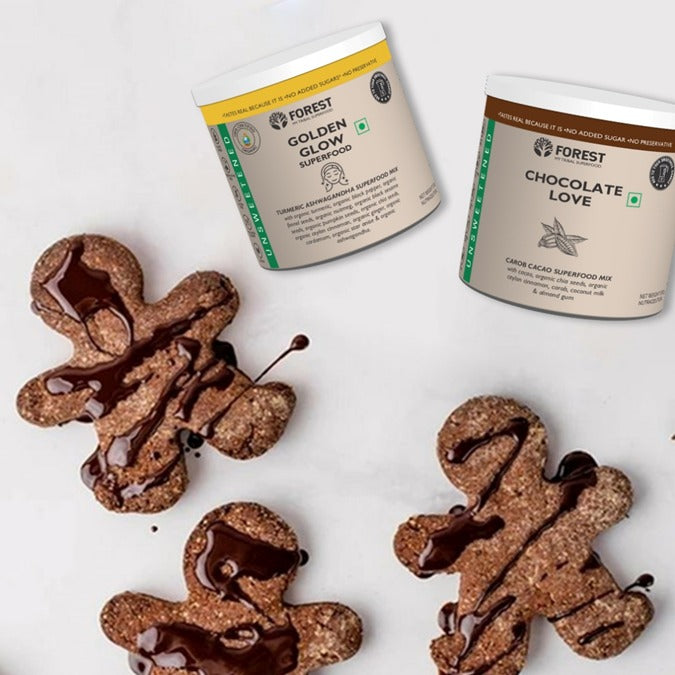 We love chocolate love. But during the holidays, it's all about gingerbread!
These vegan gingerbread cookies get their warm spices from our golden glow mix, which includes Organic ginger and cinnamon. You also get the added benefits of Organic turmeric (a natural anti-inflammatory) and Organic ashwagandha (great for reducing stress during the holidays). And if you're obsessed with chocolate (and who isn't!?), you'll also get your fix from our chocolate love. This healthy alternative to chocolate is an instant mood-booster AND it will even curb your cravings.
TURMERIC LENTIL SOUP RECIPE
Makes 1 Serving
Recipe type - Snacks / Breakfast
INGREDIENTS
- 2 serving Chocolate Love mix
- 1 serving golden glow mix
- 1 cup pitted dates
- 1 cup ground hazelnuts
- 1/2 cup oat flour
- 11/2 tsp gingerbread spice
- 3 tbsp melted coconut oil
- 3 tbsp cornstarch
- 1 tbsp molasses
DIRECTIONS:
Preheat the oven to 360°F and line a baking sheet with parchment paper.

In a high-speed blender or food processor, blend

The Chocolate love mix, golden glow mix, dates, nuts, flour and gingerbread spice until well combined.

Add the remaining ingredients and blend again. Roll out the dough (dust the surface with some oat flour or cornstarch) and use a gingerbread cookie cutter to cut out the cookies.

Transfer to the baking sheet and bake for 20 minutes. Let cool, then garnish with melted dark chocolate (if desired) and enjoy.