By incorporating these ingredients into your daily routine, you can support your body's natural detoxification processes, enhance liver function, and promote overall vitality. Whether you're looking to kickstart a healthier lifestyle or simply give your body a refreshing cleanse, our Forest Body Detox Bundle is a fantastic choice.
To support your gut health.
To support your skin health .
Support all over health.
Regular price
Rs. 6,499.00
Regular price
Rs. 13,196.00
Sale price
Rs. 6,499.00
Unit price
per
Sale
Sold out
Share
View full details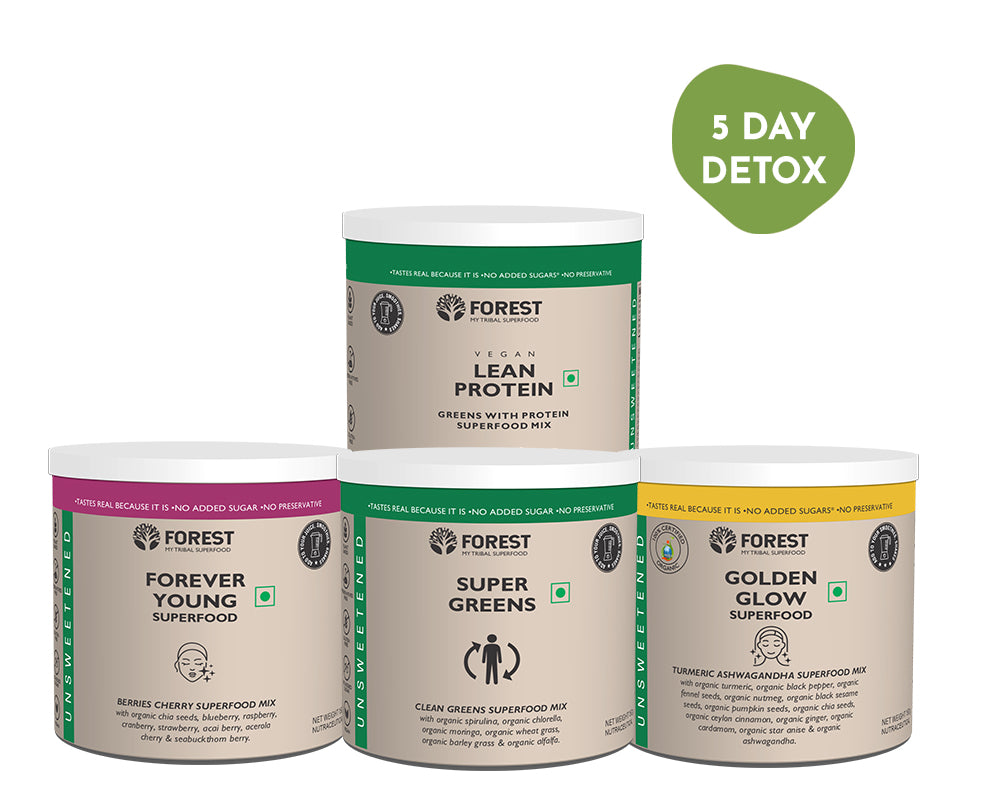 Description

The Detox Bundle is designed to help you optimize your body's functions and clean your system. Reset your body and experience a boost in energy, improved sleep, clearer skin, better focus and less bloating. We can't wait for you to get started!
How to use

How to use it in a day:

Organic Super greens : Add a tsp. to a glass of cold water with some ice and fresh lime for a morning tonic.

Forever young superfood : Add 1-2 tsp. to your morning oats for a berry bursting breakfast.

Organic Lean protein: 1 serving Organic lean protein, 2 frozen bananas, 1 handful of spinach, and 1 cup of coconut water for your dose of daily protein and organic greens

Organic Golden glow superfood : Enjoy a warm latte by adding 1 serving to a cup of warm nut milk and a dash of raw honey (if desired)
Ingredient

Super Greens is made with 6 organic ingredients wheatgrass, barley grass, moringa leaves, alfalfa, spirulina and chlorella. All of these greens contain chlorophyll, which cleans the blood and draws toxins (e.g., heavy metals, herbicides, pesticides and environmental toxins) out of the body. They also increase the amount of oxygen in the body and promote digestive health

Ingredients: organic moringa, organic wheatgrass, organic barley grass, organic alfalfa, organic spirulina and organic chlorella!
Frequently Asked Questions
Detox bundle
I bought the detox bundle with the intention of doing the 5 day detox plan. I found the detox plan very user friendly! In other words I did not feel too deprived, and I was able to mix it up to fit my needs. I was surprised at how good the salad dressings were and made the Golden glow bliss balls, also surprisingly tasty!! The quality of the powders is superb!!!
Thank you to Forest superfood!