Our joint care Helps calm your body with adaptogens Curcumin in turmeric is known to support healthy joints for greater mobility.
Perfect for de-stressing
All-day energy.
Immunity booster.
Joint care complete nutrition.
Regular price
Rs. 2,560.00
Regular price
Rs. 3,199.00
Sale price
Rs. 2,560.00
Unit price
per
Sale
Sold out
Share
View full details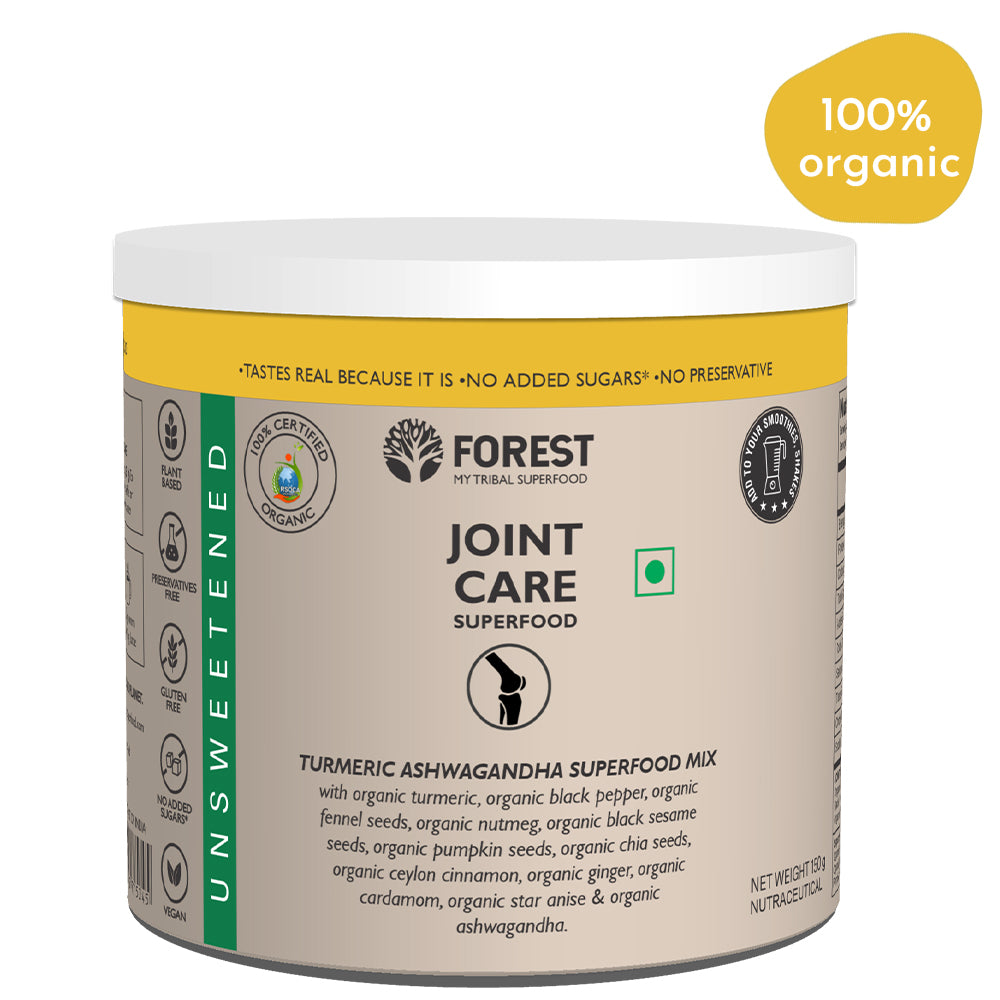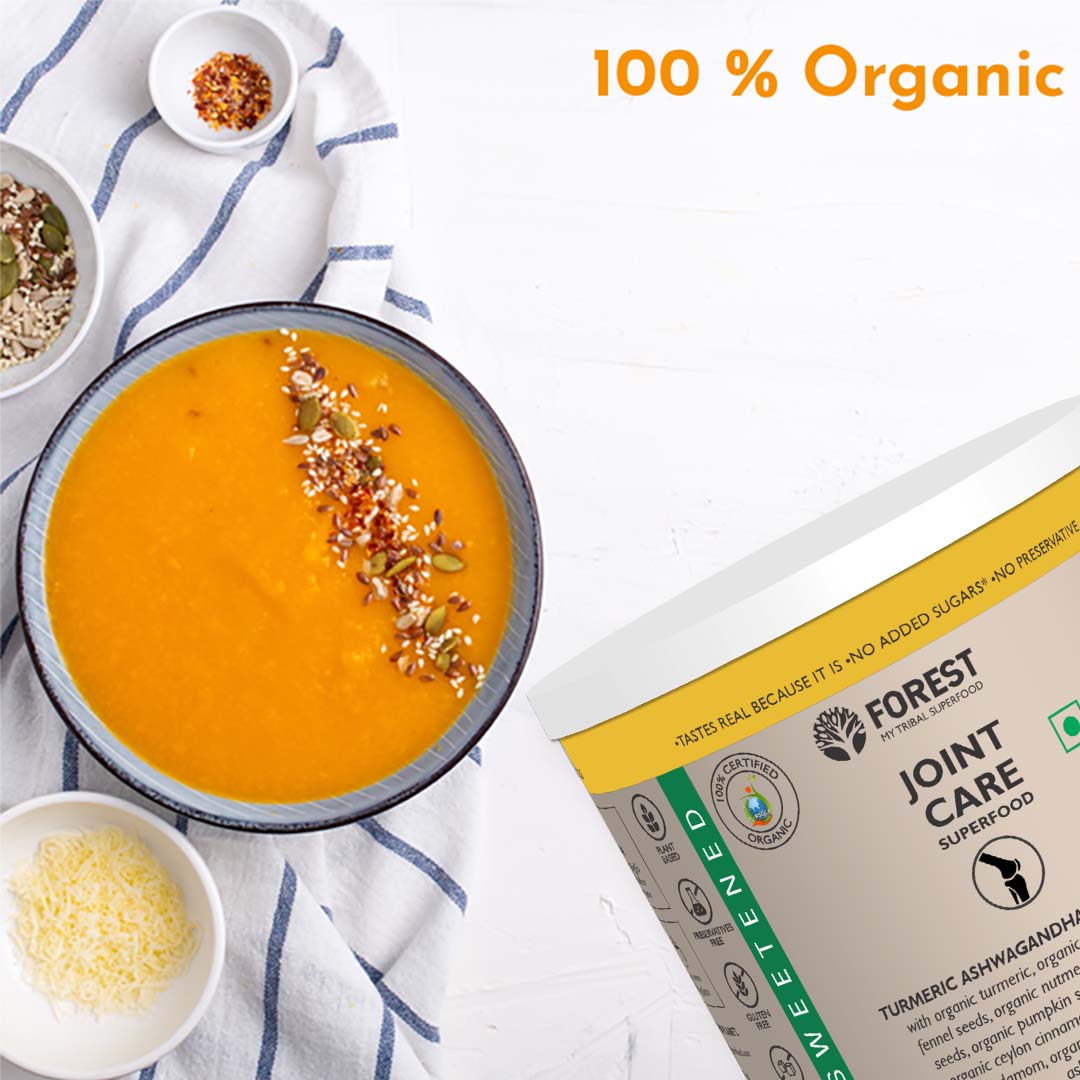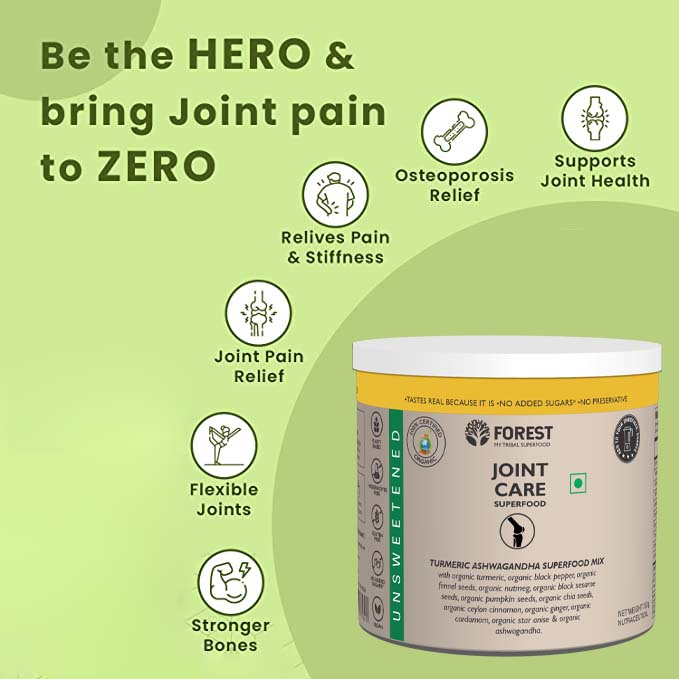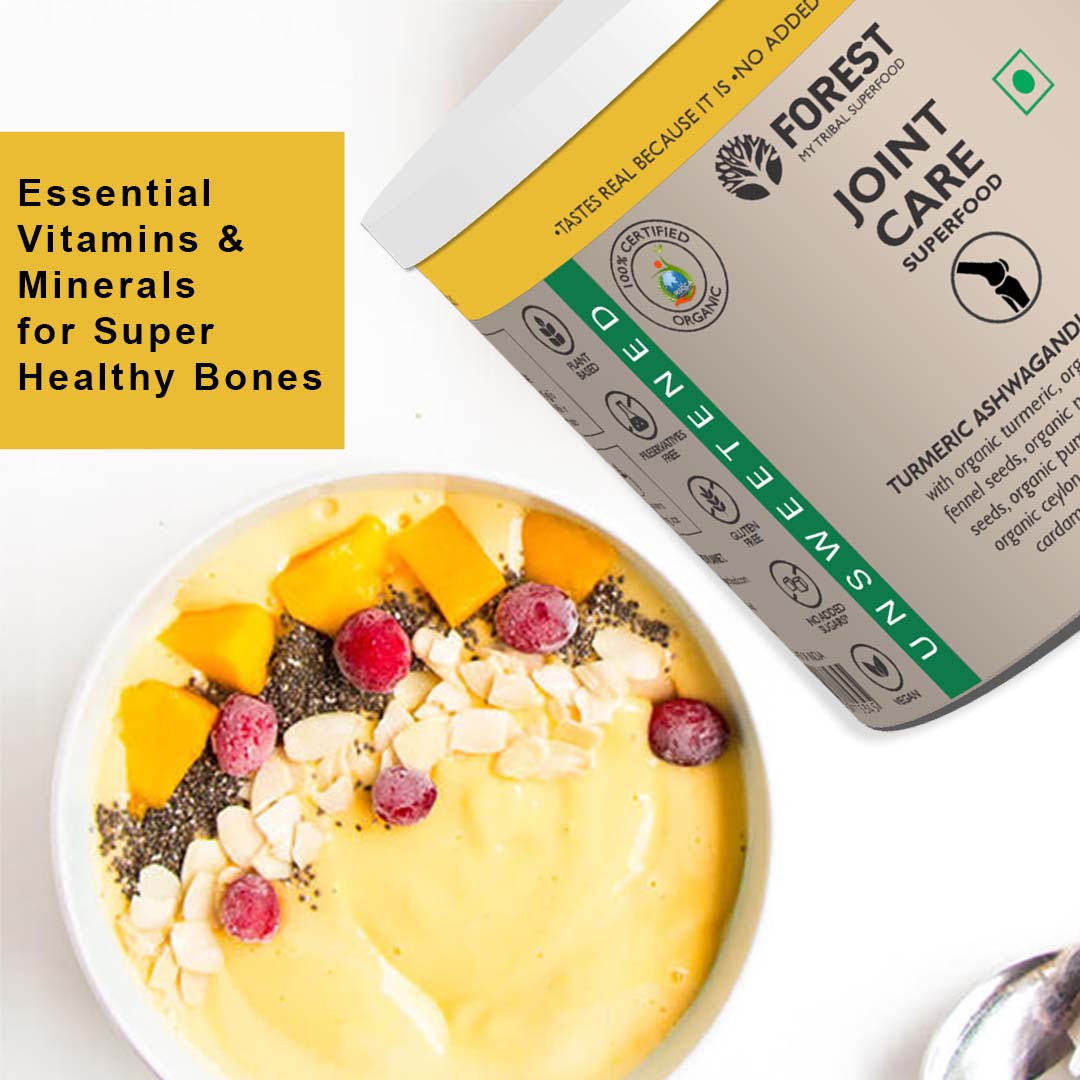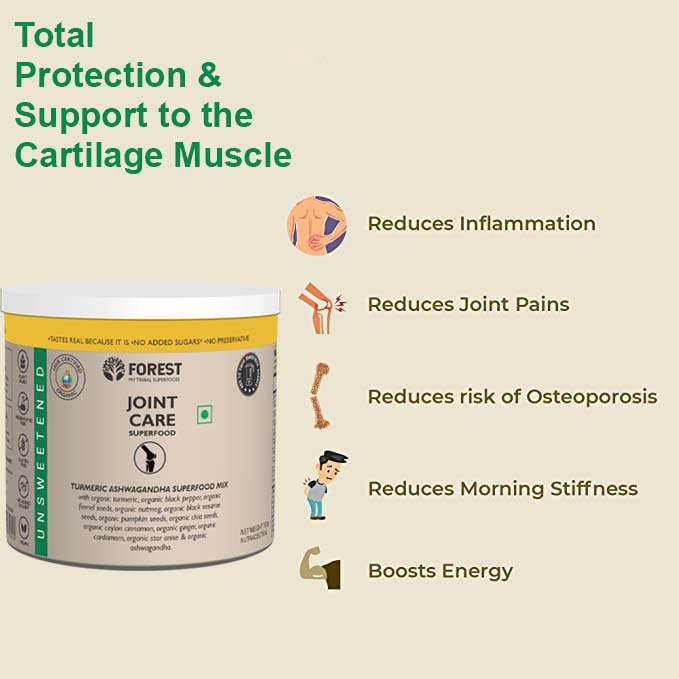 Description

A HEALTHY BLEND OF IMMUNITY, GUT HEALTH, SKIN BEAUTY

Organic Joint Care Superfood is a unique blend of organic herbs and other natural ingredients that help to reduce joint pain, improve mobility and reduce inflammation. Our blend of adaptogens helps to reduce stress and anxiety, while promoting healthy energy levels and mental clarity. Our product is certified organic, making it a great choice for those who are looking to incorporate a healthy and nutritious supplement into their diet. Our product is also designed to help you get the most out of your workouts and activities, while providing your body with the nutrition and support it needs to stay healthy and strong. With Organic Joint Care Superfood, you can enjoy the benefits of a healthy and natural lifestyle with ease.
How to use




HOW TO USE

Use this mix daily for the best results.
Add 1 serving to water, latte, juices, smoothies, oatmeals, soup, snacks, humus, or a healthy shot.
Try our favorite smoothie recipe: blend 1 tsp. Organic Joint Care superfood, 2 frozen bananas, 1 handful of spinach, and 1 cup of coconut water.
Ingredient

ORGANIC TURMERIC

Turmeric has been used in India for thousands of years for medicinal purposes. What makes this golden spice so powerful is the active compound curcumin, which is a natural anti-inflammatory.




ORGANIC BLACK PEPPER

Known as "the king of spices," black pepper is rich in antioxidants and piperine, the main active plant compound. Pepper also enhances the body's absorption of curcumin by up to 2000%.

ORGANIC STAR ANISE

It soothes the nervous system and provides potent antioxidant protection that can help to protect the skin by neutralizing free radicals and promoting slow aging..




ORGANIC CEYLON CINNAMON

Cinnamon has anti-fungal, antioxidant, and antibacterial properties that make it a perfect spice. It also works wonders in relaxing the muscles and removing tension from the body

ORGANIC GINGER

Ginger contains natural oils known as gingerols that reduce inflammation and pain. The anti-inflammatory benefits of gingerols help improve the skin's appearance and ability to heal.




ORGANIC CARDAMOM

Cardamom has antibacterial properties that help in healing breakouts and also acts as a skin purifier by clearing out blemishes.

ORGANIC ASHWAGANDHA

Ashwagandha root along with its anti-inflammatory and antioxidant properties is good to reduce anxiety and stress.




ORGANIC FENNEL

Fennel seed also acts as a potent antioxidant in your body, protecting against cellular damage caused by unstable molecules called free radicals.

ORGANIC PUMPKIN SEED

Pumpkin seed is rich in vitamin E, zinc, omega 3- and 6- fatty acids as well as antioxidants, therefore it has tremendous benefits in fighting free radicals and maintaining a youthful appearance.




ORGANIC BLACK SESAME

Sesame seeds are rich in anti-inflammatory properties that are vital in healing by getting rid of pathogens and other agents causing infections.

ORGANIC CHIA SEED

Chia" is the ancient Mayan word for "Strength" and chia seeds were prized in ancient times for their sustainable energy provision. These tiny seeds are an amazing source of calcium, fibre, vitamins, minerals and antioxidants.




ORGANIC NUTMERG

Nutmeg improves blood circulation and eases muscle and joint pain. It also reduces mental exhaustion.



Frequently Asked Questions

Q: When should I feel/see the effects?

A: Many people report feeling calmer right after drinking their JOINT CARE.

Q: Will this make me sleepy if I use it in the morning?

A: No, most people report feeling calm. You can use this mix in the morning or evening.

Q: Can I use this while pregnant / nursing?

A: We always recommend checking with your doctor or healthcare provider before making any changes or additions to your diet when pregnant or nursing.

Q: Why do I need superfoods?

A: Millions of Indians are missing many of the critical nutrients needed to maintain a healthy lifestyle. Superfoods are an easy and convenient way to get these essential micronutrients so your body can perform at its best. Because superfoods are highly high in micronutrients like vitamins, minerals, antioxidants, phytonutrients, and enzymes, these mixes are a great way to help your body thrive.
Wonder ful product
It give me great results when I started used this product I was afraid but know I happy to this product
Great
I absolutely love this products Because it give me Great result
Nice this product
This product is game changer it made my life so easier
👍 good
I used it daily routine this product give me great relief
Best product
One of the best product I've ever purchased. Best quality and better taste.