perfect for serving both hot and cold dishes and can withstand high temperatures, making them ideal for use in the kitchen.
Look traditional.
Eco friendly.
Re-use wastage.
Regular price
Rs. 720.00
Sale price
Rs. 720.00
Unit price
per
Sale
Sold out
Share
View full details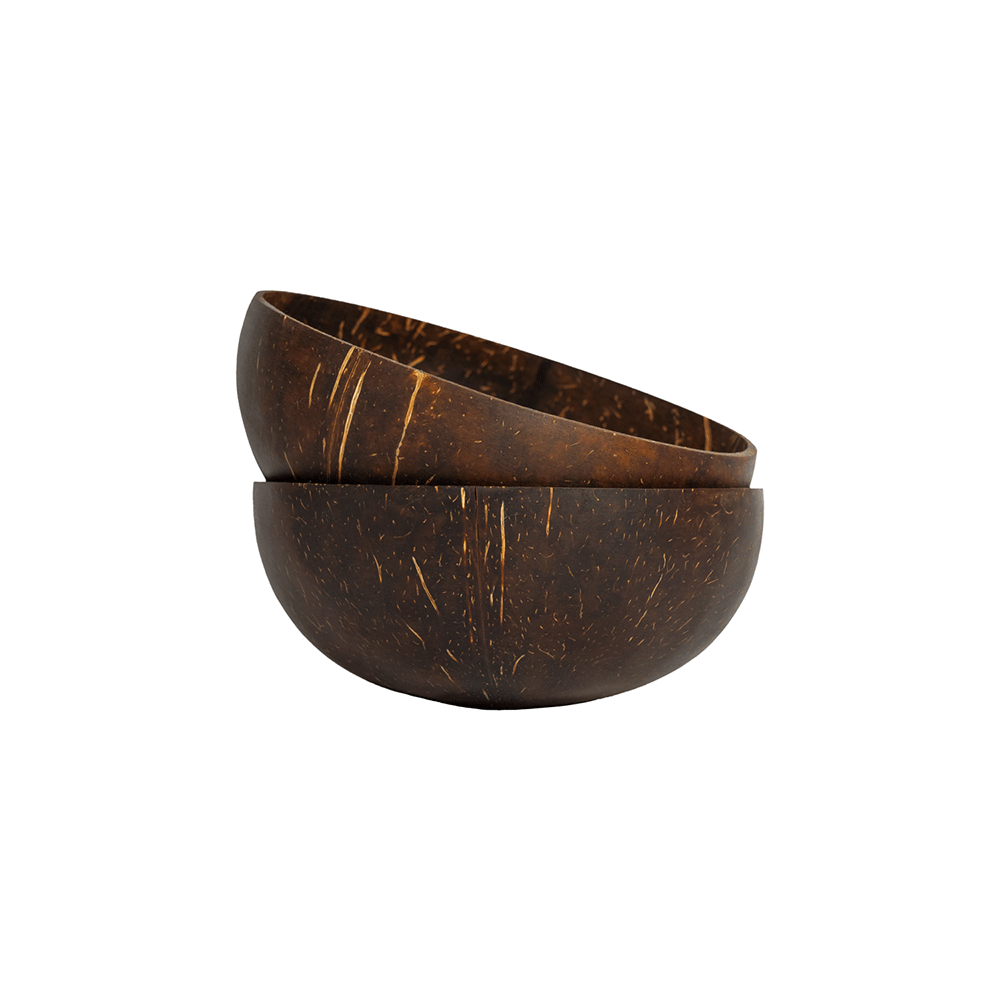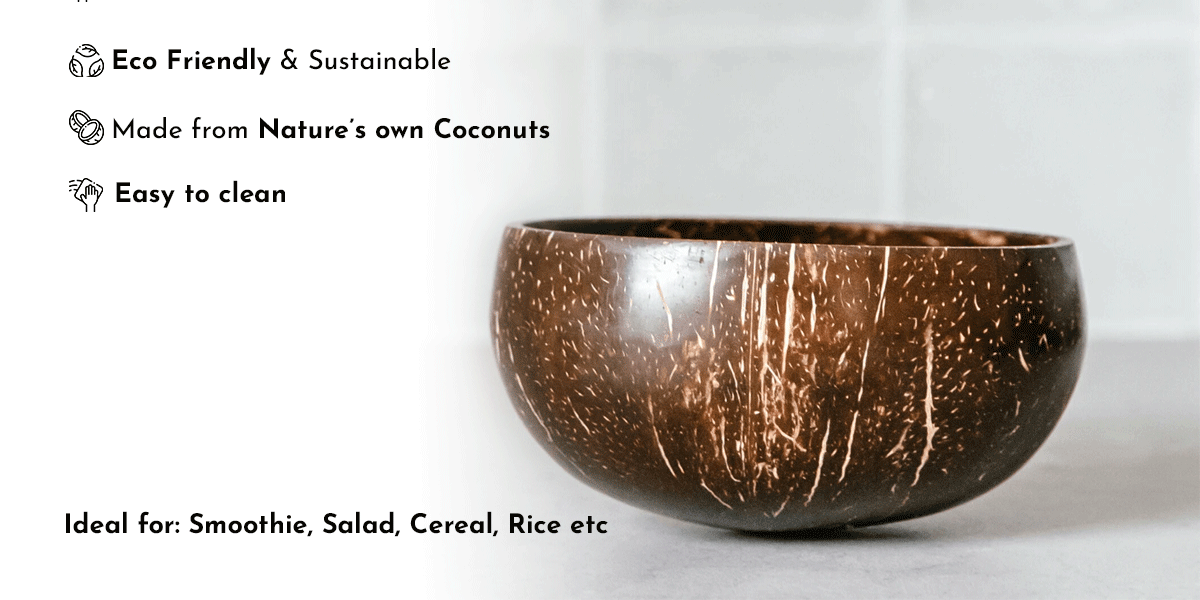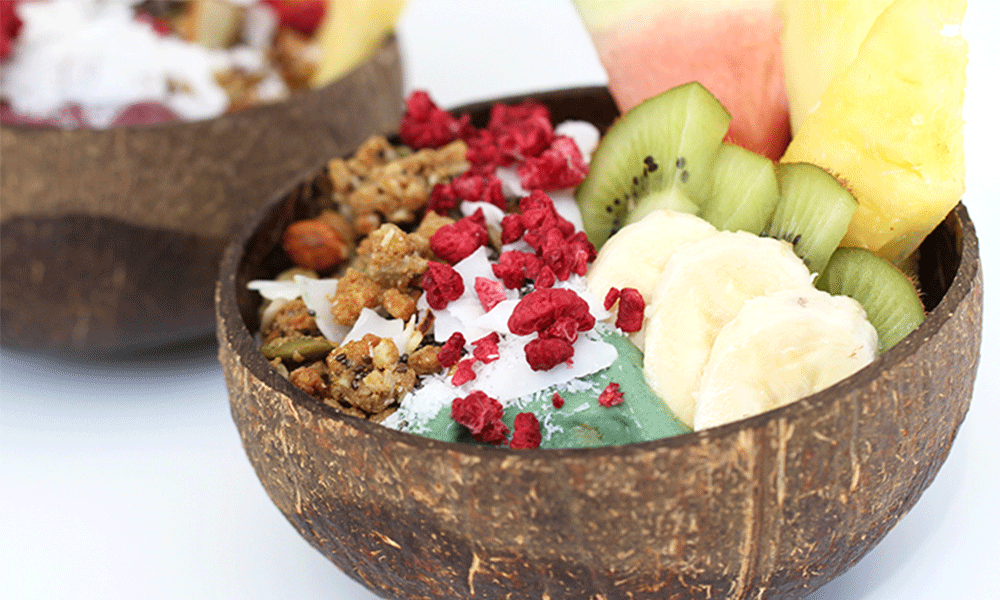 Description

Handmade eco-friendly coconut bowl crafted from natural coconut shells. 100% chemical free as they are polished with only coconut oil. These are perfect bowls for serving salads, ice cream, smoothies, and soups.


Coconut Bowls - Pack of 2
How to use

How TO Use

Use coconut bowls for eating breakfast, lunch, smoothie, and dinner.
Use coconut bowls to serve food at your dinner party.
Serve snacks such as fresh fruit or trail mix in your coconut bowl.
Make fresh hummus or vegetable dip to serve in your coconut bowl.
Use when baking or cooking to separate ingredients such as flour or sugar.
A safe option for serving meals for kids is in a coconut bowl.
Keep a set in the kitchen which includes the cutlery and a straw.
Healthy raw desserts and vegan ice cream look amazing in coconut bowls.



Frequently Asked Questions

1. How do Forest Coconut Bowls work?

A. Carefully fashioned from coconut shells, Forest Coconut Bowls can be used to serve a range of foods. These bowls can be used in the kitchen and are excellent for both hot and cold dishes because they are made to withstand high temperatures.




2. How well suited are Forest Coconut Bowls to serving both hot and cold food?

A. Coconut shells are used to make the heat-resistant Forest Coconut Bowls. As a result, they may be used to serve both hot and cold dishes without worrying about warping or getting damaged. your regular.

3. Do Forest Coconut Bowls look like classic designs?

A. Yes, Forest Coconut Bowls are created to mimic the natural texture and beauty of coconut shells, giving them a classic and rustic appeal. They provide your eating experience an organic and real feel.




4. How eco-friendly are Forest Coconut Bowls?

A. Yes, Forest Coconut Bowls are environmentally friendly options. They are manufactured from recyclable coconut shells, a result of nature that would otherwise be thrown away. You help lessen the impact on the environment by using these bowls.




5. How do Forest Coconut Bowls help in reusing wastage?

A. Utilizing coconut shells that could have been thrown out as waste, Forest Coconut Bowls are made. These shells are transformed into lovely and useful bowls rather than being disposed of, supporting waste minimization and sustainable practices.




6. Can both special occasions and daily meals be served in Forest Coconut Bowls?

A. Yes, Forest Coconut Bowls are adaptable and suitable for a variety of uses. These bowls provide a distinctive and organic touch to the dining experience, whether you're serving up a fancy dinner or just eating your regular meals.




7. What upkeep is necessary for Forest Coconut Bowls?

A. It is advised to hand wash Forest Coconut Bowls with mild soap and warm water to preserve them in good condition. Avoid using abrasive scrubbers or harsh detergents since they could harm the surface's natural texture.




8. How long do Forest Coconut Bowls last?

A. Because coconut shells have a natural strength, Forest Coconut Bowls are indeed long-lasting. However, they might develop wear over time, which would only enhance their rustic appeal. They can live longer with the right treatment.




9. Are Forest Coconut Bowls suitable for use as decor?

A. Forest Coconut Bowls are undoubtedly also useful as ornamental pieces. They can be used to bring some natural beauty into your living environment by setting them on kitchen countertops, shelves, or tables.




10. Can you give Forest Coconut Bowls as gifts?

A. Yes, Forest Coconut Bowls offers meaningful and distinctive presents for people who value sustainable and green products. They are appropriate for a variety of events, including housewarming and birthdays.